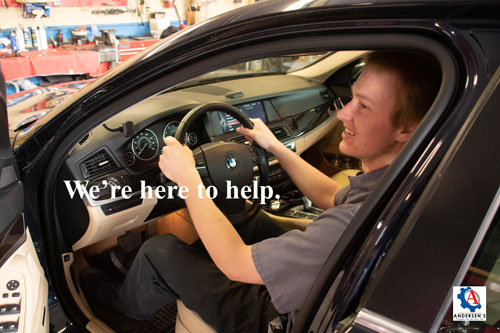 Helpful answers to keep you in the know
Do you offer a warranty?
Yes! We offer a two-year warranty from date of service, including parts and labor. Warranty repairs must be performed at Andersen's Foreign Car Service.

Do you have a tow service?
If you need a tow, please call the friendly folks at Denver West Towing at 303-279-3434. They'll put your car safely in our lot even if it's after hours. We'll let you know what it needs in a timely manner.

How much do repairs cost?
Car repairs are different than, say, the price for cheeseburgers on a restaurant menu. The price of a repair involves many variables and depends on what your car needs. That's why we typically only give a price range over the phone. Once we've seen your car and made a diagnosis, we'll provide you with a detailed estimate.

How much for an oil change?
At Andersen's an oil change is $48 for labor + oil & filter. We always use the oil and filter specified by the manufacturer for your car.

Does my car need more than an oil change?
Getting an oil change without an inspection is like washing the dishes but not the glasses. An oil change is only one part of proper scheduled maintenance and periodic service. Andersen's Multipoint Inspection includes an oil and filter change according to manufacturer's specifications, plus a thorough inspection of your car from top to bottom. It gives you a complete picture of your car's condition at time of service. Most importantly, it helps us identify trouble before it causes you headaches later. To avoid unhappy surprises, follow your owner's manual's advice on scheduled maintenance and have your oil changed as part of Andersen's Multipoint Inspection.

My car's new and still under warranty. Can you service it?
Yes! We can do routine, factory-recommended service and maintenance including oil changes, service lights, tires and more. If we find something covered by warranty or manufacturer's recall, we'll alert you so you can get it repaired by the dealer.

I bought an extended warranty. Can you do the work?
Yes! Depending on the terms, we can do most service or repairs covered by the extended warranty you bought at your automotive dealer for your pre-owned or used vehicle.

Is having my car scanned at the auto parts store good enough?
Here's the problem with generic scanners - they don't tell you as much as you might think. They only scan the engine and transmission and don't cover other critical systems. They don't actually report all the "fault codes" set by your car's computers. Most importantly, they may flag a problem but they don't say why. At Andersen's we use factory-recommended diagnostic scanners designed for your specific car. We go beyond reading numbers on a screen and focus our decades of experience on proper diagnosis. It's not just about replacing parts for us, it's about solving your problem.

What's the status of my repair?
Share your email address and/or cell phone number with us and we'll send you a link to your repair order. It's quick, convenient and available when you are. Not only can you see what we're working on, we post helpful pictures in real time so you can see what we're finding.

My Check Engine light is on, can you do something?
The Check Engine light (aka Service Engine Soon) tells you your car's sensors have noticed a problem. It means you should get your car checked. We've got the factory-recommended scanners to "read the codes" and reset the light. Best of all, we've got the know-how to advise you whether it's urgent or not and address the problem if it is.

Do you sell tires?
Yes! We have a wide selection of tires available including Continental, Michelin, Pirelli and Uniroyal. We mount and balance tires. We do tire repairs. We'll swap your street tires for snows in the winter. We also do alignments and other tire and suspension maintenance and repair.

What's this TPMS light?
The TPMS light, or Tire Pressure Monitor, typically alerts you when tire pressure is low. Let Andersen's check it for you and make sure there aren't other problems.


Car Warranty Scams Questions and Answers
Q: Is there a car warranty scam?
A: Yes, there are car warranty scams that try to take advantage of unsuspecting vehicle owners. You may have received calls from scammers that start with automated or pre-recorded prompts to enter basic information and stay on the line. Once the call begins, the scammer pretends to be an auto manufacturer or insurer telling you that your auto warranty or car insurance is about to expire. Then they ask you to provide personal information, which will later be used to defraud you. Sometimes the caller will have actual information about your automobile.
Q: What do I do if I fell for a car warranty scam?
A: There is no way to get your personal information or money back, but you can reach out to the Federal Communications Commission (FCC) or the Federal Trade Commission (FTC) and file a complaint. You can contest any charges to your bank card through your bank. Consider using a credit monitoring service.
Q: Who is behind the auto warranty scam calls?
A: Regulators allege the fake auto warranty calls, which scam customers out of financial and personal information, originate from a ring run by Roy Cox Jr., Aaron Michael Jones and Sumco Panama companies.
Q: How do you check if your car warranty or vehicle insurance has really expired?
A: If you are afraid your warranty or insurance may have really expired: first hang up with the potential scammer. Next, call your car dealer or insurer and inquire about your policy.
Discover More About Appointments and Repair Services At Andersen's Foreign Car Service, LTD in Golden

Ask The Mechanic
Auto Repair Near Morrison
Shop Location
Reviews
Outstanding Service, Carl went out of his way to insure my satisfaction, and he followed up to make sure everything went smoothly. I wouldn't hesitate to do business with them again. Professional, polite, and very knowledgeable. Thanks for the great service and follow up.

Steve Lunn, 09/13/2023

Excellent service, we are always confident that the work was necessary and fairly priced. Thanks!

Seward Linton, 09/09/2023

Excellent service, professional, polite. We will be back, extremely pleased!

Clifford Planchard, 09/01/2023