IMPORT AND FOREIGN CAR REPAIR
Andersen's Foreign Car Service, LTD Specializes in Import & Foreign Vehicle Service
Andersen's Foreign Car Service, LTD is a full-service auto repair and preventative maintenance facility specializing in import and foreign vehicle repairs. Our experts have the knowledge and experience to service and repair the most challenging import and foreign vehicles.

Using the latest technology to assess the situation and offer you alternatives, we guarantee all of our work and know you will be happy with the outcome.

We perform scheduled services for import and foreign vehicles, and provide complete repair services including:
Car Care
,
Import Cars
,
Electronic Services
,
Electrical Services
,
General Services
,
Heating and Cooling Services
,
Engine & Transmission
,
Miscellaneous Services
,
Undercar Services
, and
Brakes
Import and Foreign Vehicles Serviced at Andersen's Foreign Car Service, LTD:
Audi


"Audi is Truth in Engineering" Audi's provide high performance, state-of-the-art technology, luxury, and comfort. Here at Andersen's Foreign Car Service, LTD we love Audis as much as you do, and our experienced Audi technicians know these vehicles inside and out. No automotive repair is too big or too small. You can be sure your vehicle will be repaired right the first time. Read More About Our Audi Services»
BMW


"BMW is the ultimate driving machine" and in order to maintain your machine, we will treat your BMW like the luxury car it is. Our BMW specialists take pride in their work and are committed to providing the personal care and maintenance a BMW needs to perform at optimal levels. Andersen's Foreign Car Service, LTD has the knowledge and quality service your BMW requires!
Mercedes-Benz


"Engineered To Move The Human Spirit" Here At Andersen's Foreign Car Service, LTD, we understand that your Mercedes-Benz is the ultimate luxury vehicle and we have the best Mercedes-Benz technicians. Stop taking chances with the luxury vehicle you have worked so hard to get. Our Mercedes-Benz know-how will keep you driving in the maximum lap of luxury. Read More About Our Mercedes-Benz Services»
Volkswagen


"Drivers wanted" Volkswagen is for the love of the auto (Das Auto!), and Andersen's Foreign Car Service, LTD loves to provide reliable Volkswagen repairs. Keep the vehicle you love running smoothly by letting one of our Volkswagen specialists repair your car right. Our ASE Certified technicians have multiple years of Volkswagen repair experience and know what it takes to keep your lovely vehicle moving. Read More About Our Volkswagen Services»
Volvo


"Volvo. For life." Volvo was designed around you and is the premier car when it comes to safety. You bought your Volvo with your family's safety in mind and our Volvo specialists provide the auto repairs guaranteed to keep your Volvo performing at peak levels. Our ASE Certified technicians will follow rigorous steps to make sure your Volvo is repaired the right way. Read More About Our Volvo Services»
For questions about your import or foreign vehicle, contact us at 303-278-8766 or send us an email. Our experts will help determine what needs to be done.


To learn more about our Import Car and Truck services, call us at 303-278-8766 or request a quote by clicking below:
Request Quote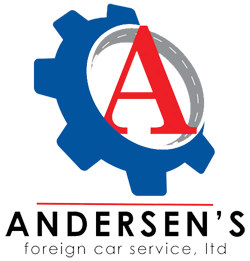 Import Cars
03/13/2023
This is my new go to body shop for everything for my 2008 BMW X3. We recently moved to the area and I've seen a lot of mechanics in my life and I have zero doubt this small operation is more knowledgeable, cares more, and offers better pricing than anyone else I've ever seen. I feel fortunate to have found them and will be a loyal returning customer. To illustrate how they go above and beyond: they offered to drive my car to get the emissions inspection to help me out! Highly recommended.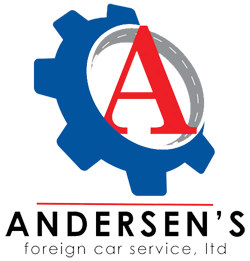 Import Cars
08/26/2022
I have been using Andersen's for a very long time. They are the most honest, capable, knowledgeable, and friendly family of people that I have ever met in or out of the auto repair industry. I trust them implicitly. I know they will always tell me the truth and give me a reasonable estimate with no surprise charges. If you have a foreign car, I have a Volvo, I would recommend Andersen's over anyone else. I would give them more stars if I could. And Willow the dog will gladly greet you and let you pet her and scratch her ears!
Discover More About Our Repair Services At Andersen's Foreign Car Service, LTD in Golden

Auto Electrical Repair & Maintenance
Ask The Mechanic
Reviews
They were able to address the issues with my XC70 very quickly, and were able to take care of some maintenance items as well. I highly recommend Anderson's Garage!

Tim Uselton, 03/17/2023

I'll go back. Nice job on a front right bearing replacement. Fair price. Friendly people. Friendlier shop Dog, Willow.

Samuel Smith, 03/15/2023

This is my new go to body shop for everything for my 2008 BMW X3. We recently moved to the area and I've seen a lot of mechanics in my life and I have zero doubt this small operation is more knowledgeable, cares more, and offers better pricing than anyone else I've ever seen. I feel fortunate to have found them and will be a loyal returning customer. To illustrate how they go above and beyond: they offered to drive my car to get the emissions inspection to help me out! Highly recommended.

Garrett Clark, 03/13/2023